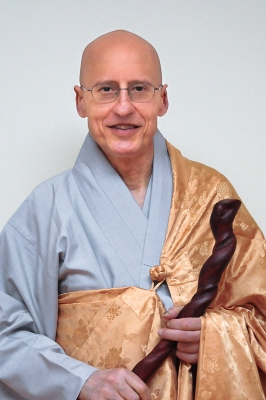 Our dear Zen Master Wu Bong was born on June 22 1950 in Wroclaw into a Jewish family who suffered a lot during the German occupation during the Second World War.  In 1964 the family decided to leave Europe and they emigrated to the US.
Jacob Perl, as he then was, continued school and finished High School in 1968. When he was 20 years old in 1970, he started Zen with the famous Soto Zen teacher Suzuki Roshi at San Francisco Zen Center.  These questions of life and death were very urgent to him.  Continuing his search looking for a teacher, he went to Tarthang Tulku for one year to practice Tibetan Buddhism.
While he was a student at Brown University in Providence, he trained in Shim Gum Do and became a master in this martial art.  Still as a student at Brown University, he met Seung Sahn DSSN in 1972 and became one of his first students.  In the same year, 1972, he did his first 100-day solo retreat. He was 22 years old.  Also he took five precepts and received his Buddhist name, Peop Mu, which means the Empty Dharma or No Dharma.
1973 he graduated from Brown University as a Bachelor of Pure Arts. He was a graduate in mathematics. After his graduation, he practised more retreats, and in 1978 together with Dae Seon Sa Nim he returned for the first time to Europe, to Poland, his motherland, where from that time onward a sangha developed which grew and became the largest sangha in our European school.
In 1978 he did his second solo retreat in America.  He hurt his health at that time, because of a very hard diet and very strong practice.
In 1984 he received inka from Dae Seon Sa Nim, and although still living the the US, he became the official supporter for the Polish sangha. From that time onward he traveled frequently to Poland.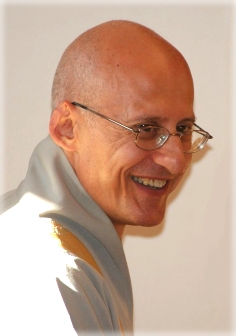 In 1988 he married Grazyna, and soon afterwards adopted his son Nicholas who had been born in 1979.  In '89 his son Matthew was born.  In 1992 he was officially named the European Head Teacher by our founding teacher Zen Master Seung Sahn.
In 1993 he received transmission from Zen Master Seung Sahn and received the dharma name Wu Bong, which means Universal Peak.  At that time he lived at Providence Zen Center with his family, where he was abbot for many years.  Shortly afterwards he moved to Paris with his family and established Paris Zen Center, but still he had business in the United States, so he traveled between the continents.
Between his inka and transmission he was very active teaching in Asia, South Africa, and America, but mostly in Europe.
In 2000 he gave his first inka, to Mukyong.  In 2006 he gave his first transmission, to Bon Shim.  In 2012 he gave his second transmission, to Ji Kwang.  In total he gave two transmissions and inka to seven students.
In 2008 he moved to Korea to prepare himself to become a monk.  In order to keep a place in Europe he moved into the Berlin Zen Center, which from that time onward became his home in Europe.  In 2009 he was ordained as a Buddhist monk in Korea.
Until the end of his life he continued to guide and teach his European sangha while also focusing on teaching in Korea.  He led Kyol Che at Mu Sang Sa, Hyang Chung Sa, Hwa Gye Sa and Boep-hwa Doryang; this is where he  lived while in Korea, since 2011, and which is the temple of Deok Hyeon Sunim, his Korean student and friend.
Wu Bong Sunim left his body after a cardiac arrest on Wednesday April 17th 2013 at 1 pm while leading a Yong Maeng Jong Jin at Paris Zen Center.
[huge_it_videogallery id="5″]
The Teaching of Zen Master Wu Bong
Film about Zen Master Wu Bong